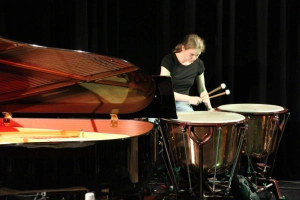 Foto: Nathalia Grotenhuis
Sound is a form of communication between a person and his or her environment. It is not just about conveying a message through acoustic means, but an elementary way of finding one's way in an environment and communicating with it.
Nathalia Grotenhuis' was born 1984 Born in Kleve, Germany. Her works focus on the viewer's perception. Through acoustic strategies, they make spaces, themes and conditions newly perceptible and thereby explore the nature and limits of what we commonly call "sound".
Nathalia performs as a percussionist and sound artist in solo and ensemble concerts. She performs her own compositions as well as interpretations of well-known percussion literature, sound installations and performances at various events.
In addition, she gives drum and music theory lessons and leads drum courses and ensembles at various music schools and music clubs. In 2015-2017 Nathalia was an adjunct lecturer at the Hochschule für Musik Mainz in the department of New Music / Sound Art.
Short bio
2015 Master of Music Sound Art / Composition, School of Music.
2013 Master of Music Orchestral Percussion, Mainz School of Music
2011 Diploma Music Teacher Classical Percussion, Mainz School of Music