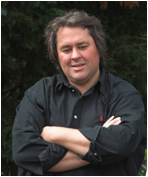 Prof. Peter Kiefer

Composer, sound artist, expert in Electronic Art and New Media.
Kiefer studied composition and classical percussion at the College of Music Cologne and philosophy, musicology and theatre-, film and television science at the University Cologne. Additional studies with Luigi Nono, Karlheinz Stockhausen, Herbert Brün, Vic Hoyland and Michael Nyman.
His compositions always focus on space as a central theme and have been performed internationally. He composed for traditional ensembles like string quartets, but also for experimental video art and electronic music. His music for the silent movie La Passion de Jeanne d'Arc from Carl Theodor Dreyer was performed in the Cathedral Notre Dame in Luxemburg.
In 2016 he was commissioned to write an orchestra piece for the 25th-anniversary celebration of the German Unity Day. The first performance took part on this day, October 3rd, 2015 in the Berlin Philharmonie: "gemeinsam... /- nicht mit mir!" for tuba solo, orchestra, children's orchestra, 3 room ensembles and 5 channel surround sound composition.
In 1991 he presented his first installation work at the sound art Wuppertal and since this time he is seen as a sound artist also. A lot of exhibitions followed: Sound Art Hannover, installation inside the Deutzer Brücke Cologne for Brückenmusik X, Sound parc at the Federal Horticulture Show 2011 in Koblenz (half a year and more than 3.5 million visitors), and in 2015 at the international Sculpture Biennale Blickachsen 10.
Additionally, his intermedia sound art-projects have been presented in numerous exhibitions: German Academy of the Arts Berlin, the Art and Exhibition Hall of the Federal Republic of Germany Bonn, the Historical Museum in Luxembourg, the Couvent des Cordelliers Paris, the Kunsthalle Düsseldorf, the German Historical Museum Berlin, Fabbrica Europa Florence, City Museum Helsinki, FIN, Lenzburg and Bern CH and other museums and festivals. In 2010 the HR Broadcasting Service produced a one-hour portrait in the series selbst LAUT.
He also works as a curator on several occasions: e.g. in 2003, he initiated a live sound installation at the entrance of the international art fair ART COLOGNE. In 2004 he was artistic director of the large sound art festival KLANGRAUM- RAUMKLANG in Cologne.
Over 25 years of experience as lecturer and professor. He has been invited to numerous symposia and international conferences e.g. keynote speaker at the Bonn University or at the Banff Centre for Arts and Creativity, Canada. From 1992 at the Academy of Media Arts Cologne, from 2000 - 04 professor and head of the >MusicDept.< and Sound-Lab. Since 2001 professor for New Music/New Media and Sound Art at the School of Music at Johannes Gutenberg-University of Mainz.
In 2010 he initiated the Master Studies program "Sound Art-Composition" and is head of the Department "Sound Art-Composition" at the University of Mainz at the School of Music.
Author and publisher of "Klangräume der Kunst" (Soundspaces in Art) at Kehrer, Heidelberg 2010.
Awards
Euregio/ NRW composition price, Festival "Saitenklänge" /"string sounds" for the piece Apokalypse for double bass-solo, voice, piano, and tape. West german radio production.
Advancement Award for Musik of the city of Aachen.
Several working scholarships in the Experimental Studio of the Heinrich Strobel Foundation of SWR with Hans-Peter Haller and Andre Richard.
Composition scholarship with Luigi Nono Centre Acanthes Paris/Avignon
Dartington International Summer Music School, GB. music theatre scholarship.
Links: