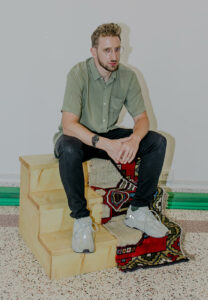 Lawrence Abu Hamdan lehrt und forscht von Mai bis Dezember 2021 als Vertretungsprofessor für Klangkunst-Komposition an der Hochschule für Musik Mainz der Johannes Gutenberg-Universität Mainz.
Lawrence Abu Hamdan schloss sein Bachelorstudium in Sonic Arts 2007 an der Middlesex University in London ab, sein Masterstudium am Centre for Research Architecture des Goldsmith College der University of London schloss er 2010 mit dem Master of Arts ab. 2016 wurde ihm ebenfalls vom Goldsmith College für seine Thesis Aural contract: investigations at the threshold of audibility der PhD verliehen.
Die Auszeichnung mit dem renommierten Turner Preis im Jahr 2019 machte den Künstler Lawrence Abu Hamdan einer großen Öffentlichkeit bekannt. Die für die Nominierung des Preises ausgewählte Ausstellung Earwitness Theatre, die unter anderem am Institute of Modern Art in Brisbane, dem Contemporary Art Museum St. Louis, dem Witte de With Center for Contemporary Art in Rotterdam, den Tate Modern Tanks in London und der Chisenhale Gallery in London gezeigt wurde und die Video-Installation Walled Unwalled und weitere Arbeiten weisen ihn als Grenzgänger zwischen Technik und Kunst aus, als "Audioermittler", der sich immer wieder mit forensischen Untersuchungen - z.B. in Zusammenarbeit mit der Agentur Forensic Architecture am Goldsmith College - beschäftigte. So gelang es Lawrence Abu Hamdan in Zusammenarbeit mit Amnesty International und Forensic Architecture, auf der Grundlage von Ohrenzeugen, die im Gefängnis von Saidnaya in Syrien inhaftiert waren, die bis dahin unbekannte Architektur des Gebäudes zu rekonstruieren.
2016 erhielt er den Nam June Paik Award, im Jahr 2019 wurde ihm der Edvard Munch Award zugesprochen.
Seine Werke sind in die Sammlungen bedeutender Museen, darunter MoMA, Guggenheim Museum, Van Abbe Museum Eindhoven, Centre Pompidou und Tate Modern aufgenommen.
Foto © Myriam Boulos